Every Game Is Important
I wanted to start this entry by talking about the passing of Mary Travers of Peter, Paul, and Mary. She had a long struggle with leukemia which ended yesterday. We know her as the harmonious voice who sang about Blowing in the Wind, Puff (the Magic Dragon) and If I had a Hammer.
Also passing on the same day as Mary was Henry Gibson of Laugh In fame. He was not as well known as Mary but still held a place in many of our hearts.
In recent weeks we have lost many people of our past including Michael Jackson, Farrah Fawcett, Patrick Swayze and Edward Kennedy. May they rest in peace. Prayers for their families.
Every game for the Dodgers from now on is crucial. I worried about the Pirates. Even after the win on Monday, I still worried.
Tuesday was fleece blanket day so I scurried around getting my blankets. I bought an extra ticket so my Dad could have his own too. Therefore I did not make it to my seat in time for batting practice. Sacrifices I make!!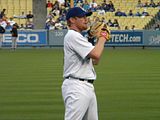 Randy Wolf was the starting pitcher for the Tuesday game. He had been out because of a hyperextended elbow.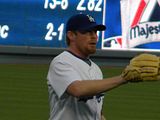 Of course, Linda was there with her wolf hat, wolf earrings, wolf teeshirt, etc. I asked her to not scare him off.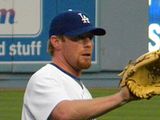 He looked pretty good. He makes funny faces while he pitches so it was difficult to get a good picture of him.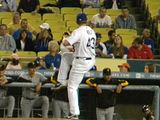 Here is one of his back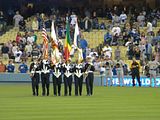 It was law enforcement day. Many officers were awarded medals of valor for their bravery. The police also presented the colors.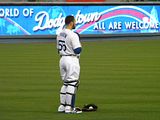 Here is Russell showing his respect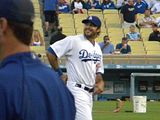 I love this picture of Andre with a big smile on his face.
Here is Matt also looking amused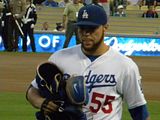 Russell looking intent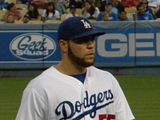 Russell again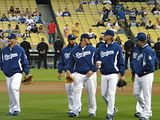 our outstanding bullpen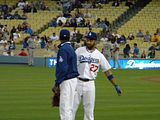 J Mac talking to Matt as he usually does on the way to the bullpen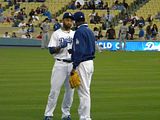 and don't forget that knuckle bump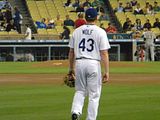 Randy Wolf started walking to the dugout alone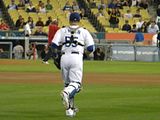 Hey wait up Randy. You forgot me!!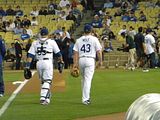 Notice Russell and Randy are about the same size?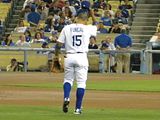 Raffy Furcal, our SS, is about one inch shorter than those two. Notice he is wearing his stockings out. I think it makes him look shorter.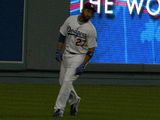 Matty was busy skipping and doing bunny hops out in the field.
I love watching the children getting autographs before the game. Above is Matty carefully signing a ball for a child.
Manny throwing the ball before the game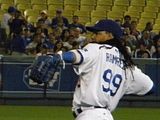 another Manny view
I predect that this wil be a 13 inning game.
Oh right, Andre, now you are a palm reader!
The game seemed to drag along. I only think that when the Dodgers are trailing. The Pirates were ahead until the ninth inning when Andre doubled and scored on a Matty Kemp two out single to tie the game.
Randy Wolf was slightly rusty to start the game but recovered enough to limit the runs to three.
The Dodgers seem to be back to the last minute heroics that we were used to seeing at the beginning of the season.
The game went into extra innings. The crowd thinned out a little but many stayed. I decided to stay until it was over. It went into the eleventh inning. Then it went into the twelfth inning. I was starting to get a little tired since it was starting to be a four hour game. I realized that the Wednesday game was a day game so I would have to get up my usual 600AM and start out for the stadium about 830 AM.
And then at the top of the thirteenth inning, the Pirates got a run. I thought, oh great, the Dodgers are going to lose after I spent all night sitting there. But I scolded myself. Ye of little faith, you have to stay and scream your lungs out for your Dodgers.
I watched Andre out in right field. He was doing his usual stuff.
Blowing bubbles
checking his nails
chomping on his fingers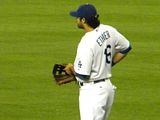 scratching when it was itchy
Blowing even bigger bubbles
Waiting for the ball to come in his direction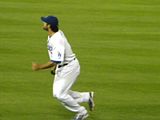 running to make a play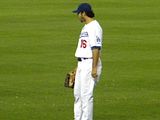 checking o see what might be lurking in the grass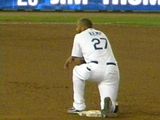 Matty was a little tired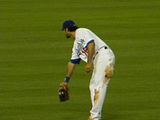 After 13 innings 4 hours everyone needed a good bath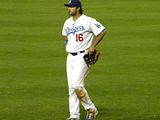 Everyone was a little impateint
we resorted to counting the blades of grass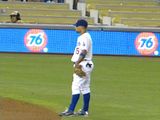 Raffy's stockings were feeling a little tight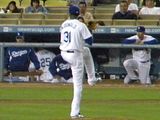 Jimmy Mac did a bang up job.
Here is Russell and James McDonald. He also looks about 2 feet taller than Russell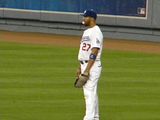 Matty was also chewing gum. It was past his bedtiime.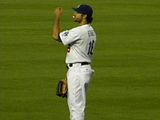 Then it was three out and the Dodgers were finally up. It was the bottom of the thirteenth inning. My eyes felt a little blurry.. I had already taken more than 300 pictures. What will happen next.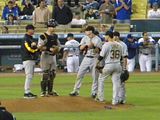 Much discussion went on among the Pirates especially when there was a runner on first base and Andre Ethier was up. Will magic happen again. Andre has had 5 walk offs with 3 walk off homeruns. How could it happen again?
I had my fingers crossed. All I could do was BELIEVE in my Dodgers.
And it happened. Andre hit the ball and it kept sailing. All of us held our breaths as we watched it go over the right field wall. No one said a word and then we started to scream as loud as we could. He had done it again!!!
Our Andre Ethier has 6 walk off hits, the most in the Major League. He has 4 walk off homeruns this season.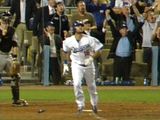 Here he is right after he hit the homerun and he is running to first. I was so excited, I'm surprised I got this picture.
The Dodgers are back to being the exciting team that they were at the beginning of the season when magic happened with two out in the ninth inning.
I got home very tired but a very warm, nice tired. I went to bed knowing I had to get up early for Manny Bobblehead Day the next afternoon.
Thanks for stopping by. Another post to follow.
Posted on September 17, 2009 at 10:00 pm

Filed in:

Dailies