October 2009
The Dodgers are heading to Philadelphia tied up. The series is now 1-1.
Last night's game was actually a great game to watch except that the Phillies won that one.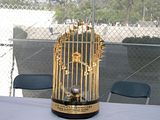 The World Series Trophy was on display just outside the Stadium.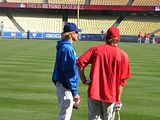 Batting practice was well underway. It was nice to see that a couple of Phillies were out on the field talking to some of the Dodgers.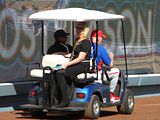 The Phillies coach Manuel took a ride back to the clubhouse from the bullpen
Then the Phillies came out and took batting practice.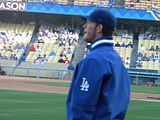 Clayton Kershaw, our starting picture came out to the field to warm up. He looked so young.
and vulnerable
Matty Kemp also ran out on the field
Andre was in good spiriits
There was a group of Marines and Navy sailors walking across the field but Matty just kept on working out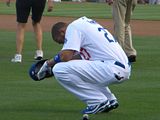 a quiet, soul searching moment for Matt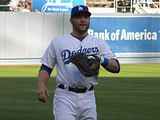 Russell came out with all his equipment to throw the ball and warm up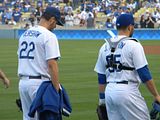 Clayton and Russell walked together across the field to the dugout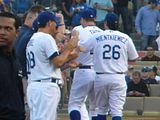 It was exciting to see the entire Dodger organization iintroduced. Here are the coaches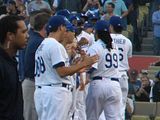 Manny
Matt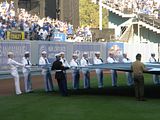 By the time Billy Ray Cyrus sang the National Anthem, we Dodger fans were beside ourselves with excitement. While the Marines and Navy were unfurling the huge flag, we noticed that someone had fallen and was under the flag. Weird.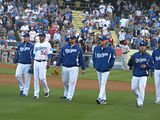 Our relief pitchers walked to the bullpen
The game did not end the way I would have liked it to but it was a great game to watch. Our downfall was the two 3 run homeruns that Kershaw and Sherrill allowed after walking a couple of players. Once Clayton lost the strike zone, he didn't find it again. The homerun that Sherrill allowed was unusual for him.
The Dodgers fought back with homeruns by Loney and Manny but it was a losing battle.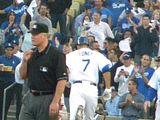 Loney running in after hitting his homerun. This is only the second he has hit in Dodger Stadium this year.
Here is Manny running in after his homerun.
Belisario, one of our best relief pitchers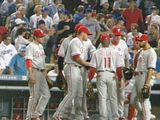 The Dodgers kept coming back but to no avail. The Phillies were in constant discussion.
I wonder if they're talking about me??
Oh, boy, my back needs stretching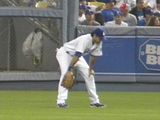 Yikes, how long will they talk
And how many pictures is that Cat taking of me anyway? Andre always seems to spot me in the crowd.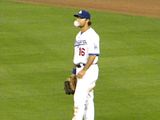 Might as well blow some bubbles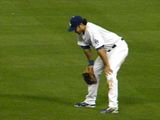 or look for that darn penny. It's like looking for a needle in a haystack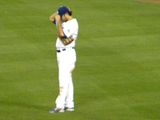 Maybe I'll adjust my do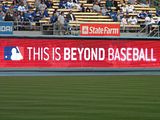 or look at the neat signs around Dodger Stadium.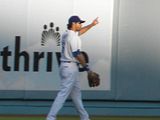 Here's Andre signaling two away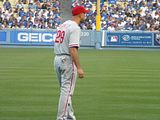 Here is left field ibanez. A couple of fans were heckling him. He got them back by hitting one of those homeruns.
One thing about the Dodgers is that every day is a new day. Losses are put behind them and they come roaring back. Often they win with two out or in the final inning. We have learned not to leave until the game is over.
The second game was a day game. Everyone who reads my blog knows how much I dislike the day games.
I had already heard that after the drenching with rain we had early in the week, we were going to have very hot weather.
I was sick anyway with an upper respiratory infection, so I knew I would be miserable in the heat. I came prepared with a couple of bottles of water and Linda gifted me with another one.
While I was standing in front of my seat, I felt something under my Dodger teeshirt. I thought maybe it was a thread or something but realized it was moving. I reached under my shirt and pulled something out and threw it to the ground. I realized it was a bee. What a way to start my day!!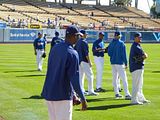 Uh oh, I wonder if the guys were wondering what was going on with me!!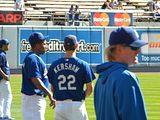 It looks like they were deeply engrossed in something else.
I really worried about the heat on the field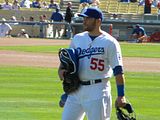 Russell looked hot when he came out with his equipment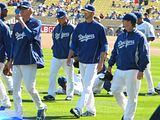 I guess the relief pitchers always wear their jackets even in 85 degree weather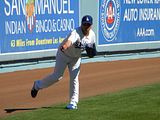 I hoped that Vicente Padilla would be able to tolerate the heat. He did pitch for Texas so I know he was used to ugly weather. Oh and thank you Texas for Padilla.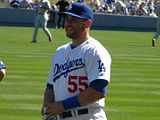 Russell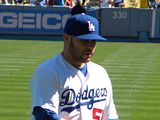 Another picture of Russell, especially for Rosie
The Backstreet Boys sang the National Anthem, not the run of the mill version either.
Ronnie Belliard, our second baseman
About this time, the heat was unbearable. I couldn't sit in my regular seat so I found a seat in the shade. The only problem was that the couple in front of me blocked my view. The guy had a wide brimmed hat. The girl had a large Dodger scarf that she held up a waved which totally blocked my view. I couldn't take many pictures and those I took had parts of the guy's hat and the scarf so I just deleted those.
I wonder whether any of you out there have ever had doubts about the profession that you have chosen. I know that although I have spent a large part of my life doing what I do, I sometimes wonder if it is my life's calling. As most of you know, I am an ER nurse. It is not an easy life. There are a lot of stesses involved as with any other profession.
Something that happened at the game let me know that this is what I was meant to do.
I was watching the game when I noticed two men bringing an older gentleman up the aisle, one on either side. But the older man was actually being half carried. Instinct made me jump to my feet and run to his side. I directed them to lie the man down since I figured that he was dehydrated. Someone was throwing water on his face and I yelled at him to stop it. What if he aspirated the water. A cold towel would have been better. I checked for a pulse and found one so I knew he was okay, He responded when I spoke to him. In fact, he said, "What's the score?" I laughed very relieved. I stayed with him until the paramedics were at his side. They took him directly to the hospital. As they left, the man's son looked at me and said quietly, "Thank you." It brought tears to my eyes. When I went to my seat, a fan told me that I did a great job. My usher Ernie told me it was great that I sat up in the shade so that I was there to help the man. I was overwhelmed but felt really good. I will never question my choice of careers since I think that God chose for me since he has put me in several circumstances where my knowledge has helped others.
By that time, the score was about to change from 1-0 (Padilla had allowed a solo homerun) to 1-1, then 2-1 with an Ethier walk which brought Russell home.
By that time I was worried about my guys and the Phillies on the field. Matt was looking hot.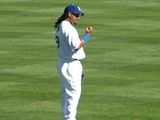 Manny was checking out his nails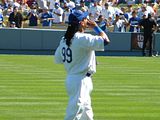 But he looked hot as well
Russell looked hot and a bit dirty as well.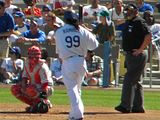 The Dodgers still played their heart out. They never give up.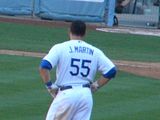 Russell took his cap off while waiting on third base
Eventually there were subsitutions to get the guys off the field. Here is Juan Castro.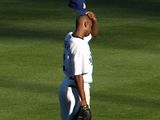 And Juan Pierre who already was feeling the heat.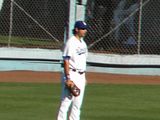 Andre was left in to make the magnificent catch which would end the ninth inning for the Phillies.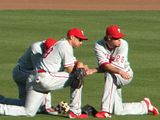 The Phillies were out in the field praying for a victory.
I don't know why Manuel used 5 relief pitchers. None of them had the results he wanted. And why did he take ex Dodger Pedro Martinez out when he did. He was doing a masterful job pitching. The Dodger batters were waiting for their chance when Martinez was retired for the night.
It was definitely a pitchers game.
The Dodgers SP Vicente Padilla received a standing ovation when he left the game, the first of his career. This game he pitched also was probably the most important game he ever pitched. I again thank Texas for him.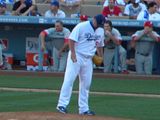 When our closer Jonathan Broxton or Big Boy came out, the door was ready to be slammed shut.
Throughout the season, the Dodgers have always had fun playing baseball. They have not dwelled on losses, playing each day as a new challenge.
And above all:
Sunday the Dodgers and Phillies play in Philadelphia. Kuroda-san will make his first start after being out with a bulging C spine. He looks ready. They say he plays as though he has ice water running through his veins. The Phillies fans have the reputation for being ruthless but the ones I know are devoted, wonderful fans. Please be kind to my guys.
Thanks for stopping by. What an exciting series this has been so far.
Posted on October 16, 2009 at 11:58 pm

Filed in:

Dailies