December 2009
I wanted to take just a minute to say Merry Christmas to all of my wonderful friends in the blogosphere. I have had a wonderful year thanks to all of you, my new friends. I now can't imagine life without all of you. You have given me so much support during baseball season with my Dodgers and also with my life away from baseball.
I can't wait until baseball season starts. It will be another exciting year for all of us no matter which team we love.
My fave Matty Kemp is in Oklahoma with his family. The weather is cold, snowy and icy. I wonder if he misses the California weather?
Remember the really hot day game? Half the Dodgers needed intravenous fluids because they got so deyhdrated.
But this was Matty yesterday on his way home from Christmas shopping. At least he is having a white Christmas.
It was a cold forty degrees this morning in California. It should warm up to sixty six degrees today. It will be a typical sunny Christmas. I know many of you are in inclement weather so please be careful
My sister just got home from work and gave me a Christmas present…a beautiful handmade Dodger blanket. Guess what will be my favorite present this year? It's small enough to take to the games when it gets cold. Ohhh, I miss the games so much!!!
I hope all of you are having a wonderful day and please keep in touch!!
Thanks for stopping by and stay safe. Love to all……………….Cat
Posted on December 25, 2009 at 9:08 am

Filed in:

Dailies
Thanks everyone who has emailed me and posted on my last blog entry. I have been busy with everything other than baseball. My life has been pretty hectic with work and family stuff. I miss baseball. I miss all my very special friends I have met through my blog.
One thing I never miss is the Army Navy game. It took place Dec. 12 I have to cheer Navy on because my son went to the Navy Academy. They did beat Army so they will be heading to the Texas Bowl.
This is one day of the year that Army and Navy are opponents. Right after the game they are again one team. I looked at all the young men going to the two military academies and realized that they knew that they all would be in harm's way very soon. They are true heroes.
Yesterday one of our Dodgers Juan Pierre signed with the White Sox. I have mixed feelings about it. I will miss him and yet I know he will be happy playing everyday. He deserves to play every game. Many Dodger fans are happy to "get rid of" Juan and his pricey contract. I only know that he is a team player and was a standout when Manny was out.
The whole divorce saga with the McCourts is a huge distraction and is horrifying to me. The Dodgers will have this distraction to start the season. It certainly has put a damper on the Winter Meetings where it seemed that the Dodger reps might as well have stayed home. We lost Randy Wolf which I know made my friend Linda sad. I know she is grieving over this. There was no way Frank would put out any big bucks for anyone, not even our most reliable starter. My shopping list would include a second baseman, at least one starting pitcher, a good pinch hitter, and a good bench.
As the year winds down, I have thought of everything I am thankful for.
I am thankful that my Dad is healthy.
I am thankful that I have a wonderfuul family.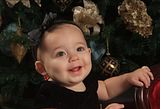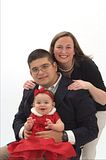 I am thankful for my fantastic blog friends.
I am, of course, thankful for my Dodgers.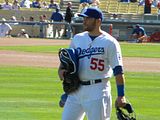 Russell
Clayton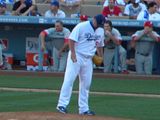 Big Jon
Sweet Andre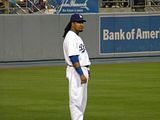 Manny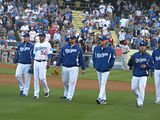 The Bullpen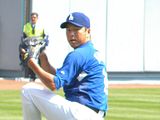 Fantastic Kuroda-san
My Matty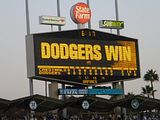 I am more than happy with the Dodgers 2009 season. They played hard and with their heart. I love all of them. I will miss Juan and Randy
I am looking forward to Spring Training. I plan on going to a few games.
I hope everyone is having a wonderful holiday season. I am truly blessed.
Thanks everyone for stopping by. .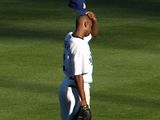 Bye bye Juan. Good luck and godspeed.
Posted on December 16, 2009 at 4:27 pm

Filed in:

Dailies